So I think one of the reason why Endmyopia not went mainstream already is that there are some points in the process where there is no exact way to do it, but we can just say that "yeah you should try that, or that, or whatever, wiggle your ears". And it sort of works, but this way it easy to make mistakes and hard to believe that this process works, especially if someone is struggling with one of these points. I think there are three such process (not necessarily in order):
Finding ActiveFocus
Getting your first normalized / differential
Measuring your visual acuity
1) Finding ActiveFocus
I think I don't have tell too much about this. The most crucial and important aspect of the method, and we saw many example where people struggled with finding it, or found something but that made other problems or thought they found it, but later realized that they were doing something wrong (which resulted in backtracking or abandoning the method).
Unfortunately this is the hardest point to help with I think. Maybe we should start a topic with "How I found ActiveFocus?" (similar to the "How I found Endmyopia") and maybe if enough people write how they did it some pattern start to emerge?
2) Getting your first normalized / differential
I don't think it's really that big problem, but as I see beginners struggles a lot with it, so I added. If someone has a friendly optometrist it's as easy as possible and hopefully more and more of them will emerge. If you don't have a friendly optometrist I think the best way is to just order 3-5 cheap glasses around your suspected "ideal" dioptre. Even if you make a mistake, most likely you will be able to use those as later differential / normalized. It would be a bit easier if we would have a foolproof visual acuity measurements, more on that in the following point.
3) Measuring your visual acuity
This is the point which started me thinking first because of several problems in the forum threads. Measuring something always add some error but those should average on the long run. The problem that all of the current methods are pretty subjective.
So for example you want to measure your weight. There are a lot of variable: what you wear, what you've eaten in the days before, how much you've drink, when was the last time you did a number 1 or 2, etc. BUT: if you say that you should always measure your weight after getting up, in your undies, after your did your morning number 1 or 2 and before you've eaten or drunk anything then you eliminated most of the variables. You just have to stick to these rules, hop on the scale and it will produce consistent measurements. You cannot "cheat" the system and there is no subjective aspect of getting the numbers (except for not seeing the numbers correctly because of myopia
)
But what we have for Endmyopia? First of all I presume we eliminate the obvious variables: so measuring in consistent lighting and with the same chart / fonts.
a) Snellen chart: it's as subjective as it can get. Blur or not blur, can you really read the letters or you just memorized them, can you really see the letter clear, or you just adapted to blur, etc. It's good to check your progress if you are improving, but almost useless to find out if something went wrong or not. Also cannot converted directly to dioptres, which makes it more imprecise and also not able to help in the previous point.
b) cm measurement: it converts to dioptre which is good, but otherwise it has similar problems. It's not useful for low myopia because of the too big distance, and it's not useful for high myopia because too small change result in too big dioptre change. It's gives more stable result in the middle range, but even there you can easily cheat the system in both way: "yeah, that's totally clear" (but it's not) vs. "I'm not sure if that's clear, so let's take a smaller number" (but it was just loss of detail because of the distance, and not blur). And currently there is no rule to objectify it. We can only say that "measure the edge of blur", but there is no way to determine if you are there or not.
I think a possible solution is instead of checking text we should develop some method which makes the edge of blur unequivocal. You should not have to judge, you either see something or not. I think it does not matter much if it can be converted to dioptre, because cm measurement is not that bad for that and it's not that useful after the first normalized / differential.
Of course measuring anxial length sounds like a proper way for this, but it also should be easily accessable, at most with some DIY crafting.
Just an idea: something like how this optical trick works: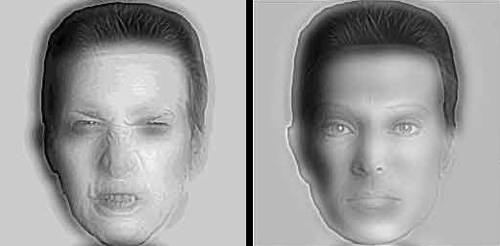 If you look close (with glasses) the right face should be neutral. If you remove glasses or go far away enough it will be the angry face on the right. Maybe we should measure the distance it changes? Maybe some more precise picture can be forged?