As we know, as seen in Jake's podcasts and in the forums there's this idea out there that people can somehow physically engage their vision to squeeze out some extra acuity.
Pretext
People actually do this in horse riding as I've pointed out before! Hard eyes vs soft eyes depending on what type of horse riding method they're using: Horse Riding insight on eyes
As seen in some of Jake's podcasts and in the forums.
Even at -2.5 Dave here was able to really relax his eyes, not working them, and just letting his eyes focus on their own and do their thing . Dave: -4.75 To No More Glasses | Shortsighted Podcast | Jake Steiner - YouTube
There's some people that are engaging the idea that ExtraOcularMuscles can be used to improve vision. (I think the truth behind this is unlikely… If anything there's value in relaxing the EOM so that you aren't unnecessarily inducing intraocular pressure by pressing on the eyeballs when there's no functional reason to use the EOM for your viewing situation.)
The Punchline:
I think a possibility of what's happening here is that people are just improving their facial posture, which in turn allows their eyes better able to do its thing.
Context
I recently created this thread about the fascia-neuro connection, which is about engaging the fascia to improve your health. I was practicing some of the wrist locking stuff. And my right eye which is my trouble eye. The eye that always lags behind while my left eye excitedly waits for a reduction. I was doing this wrist-fascia exercise and I noticed that my right eye started relaxing a bit during it and therefore active focus better (and btw,this fascia stuff is great. It has overall seemed to improve my form for all types of motion.)
https://community.endmyopia.org/t/engaging-the-fascia-neuro-connection-to-relieve-tension/15530
And then I made the connection to Koko Hayashi who I have previously brought up is someone who advocates for proper facial posture, both for proper functioning and to look good aesthetically She shares insight and exercises, etc…Eye exercises to look good
And I remembered in Koko's videos she always brings up this muscular map.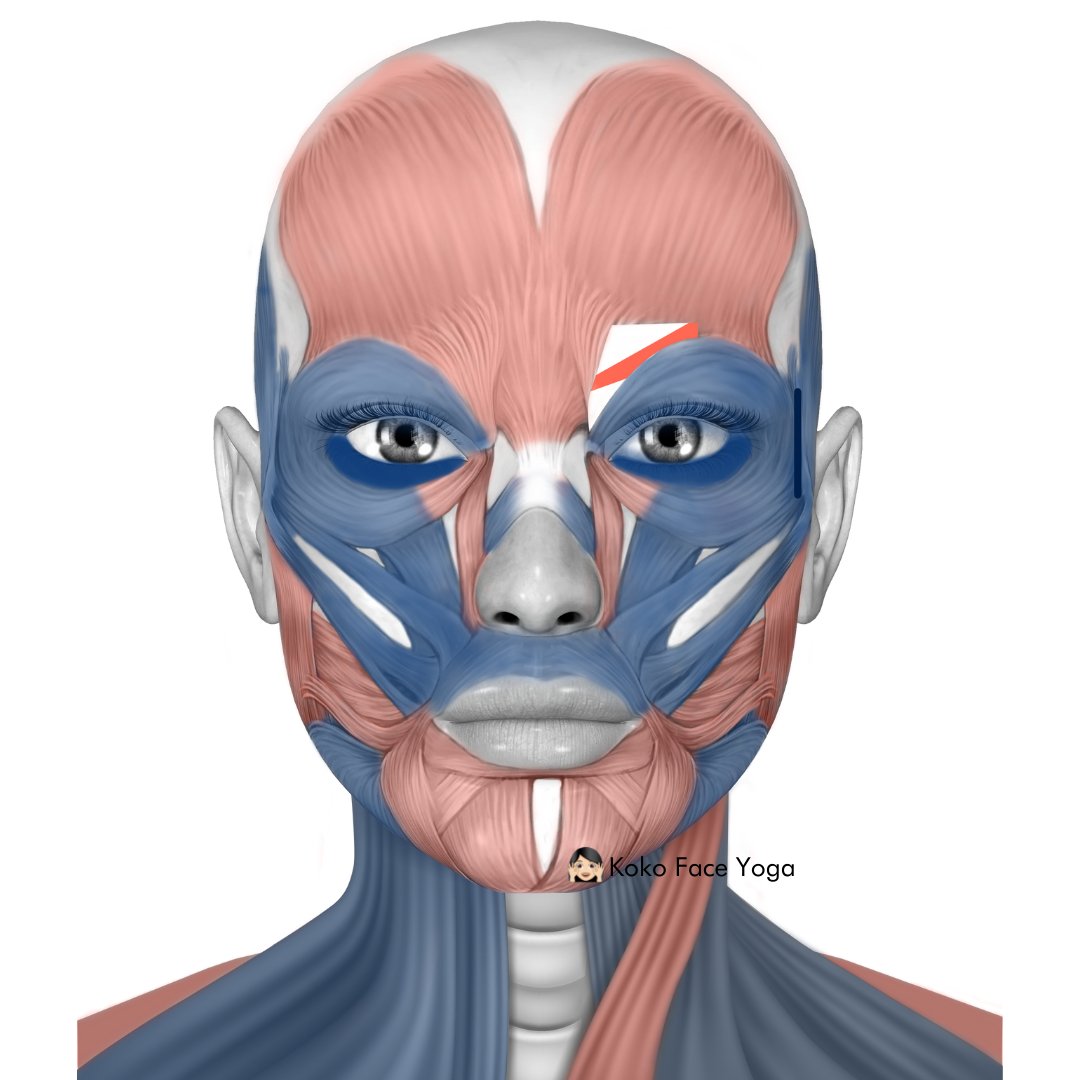 The red muscles refer to the muscles that the general population tends to over activate. And the blue muscles are "sleeper" muscles that the average person under activates. As a result of this, this leads to forehead wrinkles, jowls, nasolabial folds, overly protruding/pouting bottom lips, thin top lips, eyebags, etc…
The essence of Koko's regime is that she provides tips to engage the blue muscles, and relax the red muscles. And in turn creating more desirable aesthetic features like high cheek bones, deep-set eyes.
The hypothesis
Considering, that mewing = oral posture = better internal functioning. It could be the case that better facial posture = eyes are better positioned to do its thing.
I know it's a stretch, but just something interesting to consider. A hypothesis that the physical part that some people engage in for on-demand active focus is just someone relaxing red fascial muscles and engaging blue fascial muscles, Which in turn allows the eyes better able to make accommodations.